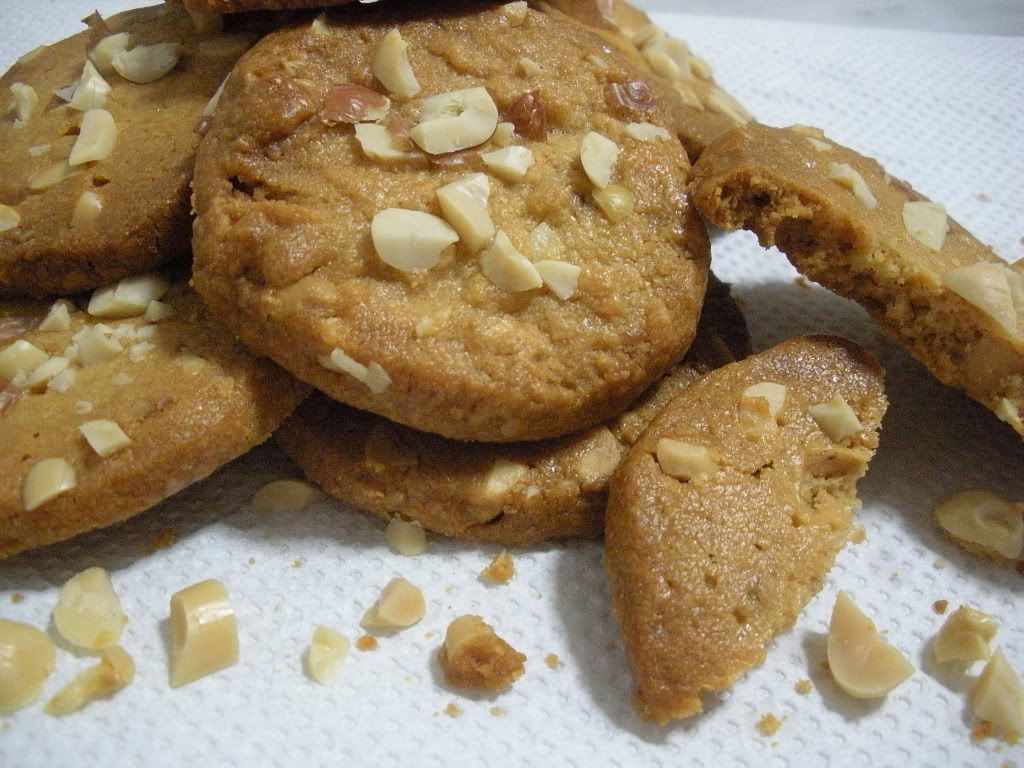 This is one of the best recipes for peanut butter cookies I have come across. It is superbly light, crunchy & richly tasty. The peanut-buttery aroma that wafted through the air while the cookies were being baked in the oven was enough to convince me that this recipe by Belinda Jeffery which I had gotten from '
delicious.'
- an Australian food mag - is definitely a keeper. As the dough is really soft, it needs to be rolled into logs and refrigerated for a couple of hours prior to slicing and baking. This cookie will never fail to delight both the young & the old. With each crunchy bite, you'll definitely want to go for more. So, be sure to make enough to last for several days. Caution: if you have unexpected guests whom you dislike, do not offer these cookies or else, they might just return again!...Or, if you want to win someone over, go ahead and offer these cookies packed nicely in a pretty ribboned gift box ;-).
Recipe:
1 1/2 cups plain flour
1/2 tsp baking powder
Pinch of salt
125g unsalted butter at room temperature
1/2 cup caster sugar
1/2 cup firmly packed brown sugar
1 cup crunchy peanut butter
1 egg
1 1/2 tsp vanilla extract
1/3 cup chopped raw unsalted peanuts, plus some for decoration
Sift flour, baking powder and salt in a bowl. Cream butter and all the sugar in a separate bowl till light and fluffy. Add peanut butter, combine. Then add egg and vanilla, combine. Add flour and gently mix. Add chopped peanuts. The dough will be very soft. Divide into 2 portion. Prepare 2 large baking paper and place each portion of the dough on each of the paper. Use your hands to shape the dough into approx 5 cm-thick log. Then roll up with the paper to enclose. Chill them in the fridge for 2-3 hrs or until firm. Preheat oven to 150 deg C, unwrap logs, slice into 6-7mm thick rounds. Place cookies 3 cm apart on trays lined with baking paper. Press extra nuts onto each cookie and bake between 20-25 mins or till brown.
Cheers,