1. BRANDY-PECAN CHOCOLATE FUDGE CAKE
Made these for M, a good friend of mine who is back visiting from the US. The original recipe from Nancy Baggett's "All-American Dessert Book" calls for Bourbon but I used Brandy instead. I made slight adjustments and simplified the baking steps as below.
The intro in the book took the words right out of my mouth when I was savoring a piece of this cake.
"This is an immensely rewarding cake - moist, tender and very chocolatey on the inside, with a glossy, gooey fudge layer on the outside."
For the cake:
- 6 oz semisweet chocolate, roughly chopped
- 8 tbsp butter
- 2 1/2 tsp vanilla extract
- 2 tbsp brandy, combined with 2 tbsp hot water
- 1 1/2 tbsp cocoa powder
- 2/3 cup sugar
- 1/2 cup chopped pecans
- 1/4 cup all-purpose flour
- 3 oz semisweet chocolate, roughly chopped
- 7 large eggs, at room temperature
1. In a bowl over a double boiler, melt the chocolate, butter and vanilla. Remove from the heat, stir in the brandy-water mixture, then the cocoa powder until the mixture is well-blended.
2. In a food processor, combine sugar and pecans till the nuts are ground to a powder.
3. In a food processor, process the flour and 3 oz chocolate till the chocolate is fine and well-blended with the flour.
4. In a large bowl, beat all the eggs and sugar/pecan mixture (no. 2) on medium to high speed till the mixture becomes frothy, lightened and nearly doubled in volume. Remove 1 cup and stir into the melted chocolate mixture (no. 1) till well-blended.
5. Combine everything into the egg mixture, using a whisk, stir and mix until well-combined. Bake in a 21-22cm springform pan for 25-30 mins at around 150 deg C.
For the choc fudge glaze:
- 1 cup heavy whipping cream
- 1 cup sugar
- 3 tbsp light corn syrup
- 2 tbsp butter
- 4 1/2 oz unsweetened chocolate, roughly chopped
- 1/2 tsp vanilla extract
Over a double boiler, combine everything to melt over low heat. Gently stir until the glaze is completely smooth and thickens to your liking. Let it cool for a while and pour over the completely cooled cake. Use a spatula to gently spread the glaze over the sides.

2. MOIST BANANA CAKE
This is a recipe given by my 4th sister to me a few years ago. It's really moist and delicious!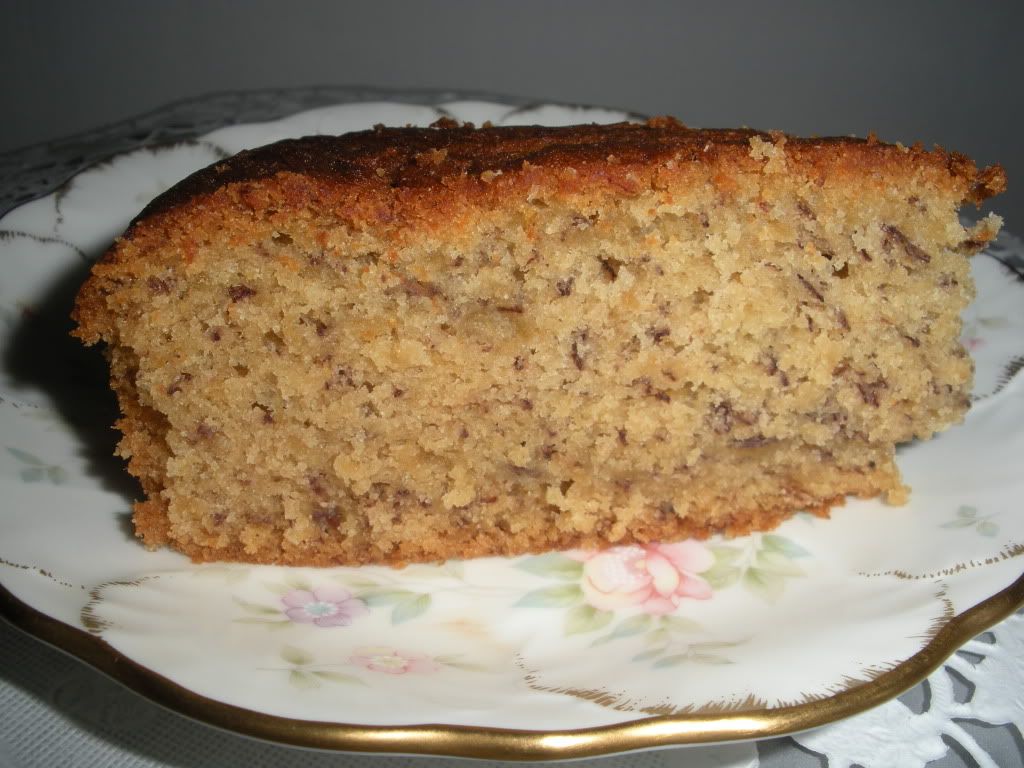 - 250 g banana
- 250 g all-purpose flour
- 1 tsp bicarbonate soda
- 1 tsp baking powder
- 4 tbsp milk
- 3 eggs
- 180 g butter
- 150 g sugar
1. Cream butter and sugar together till it is light and creamy.
2. Add in an egg at a time, mixing till well-blended after each egg addition.
3. Add in the mashed banana and mix well.
4. Add in the flour, alternate with the milk. Mix the batter until everything is well-combined. Bake at 150 deg C for 45 mins or until skewer comes out clean.
Cheers!