I've been thinking of chicken curry noodles for a week now but because the weather was so hot lately, I tried to hold back from having too much spicy food. Then, it rained a little in the morning yesterday and today and that cooled down the weather slightly. And there goes my temporary abstinence from spicy food.
Anyway, there is this stall near where I live that sells really good chicken curry noodles. The steamed chicken is succulently good and the curry gravy, thick and spicy enough. The only slight downfall is that it's a tad bit too oily, but nevertheless, DE-LI-CIOUS! Each time I visit the stall to feed my craving, I tell myself that I must try and make it one day at home. And that was exactly what I did for dinner just hours earlier. The stall has its secret recipe well-guarded and so, I created my own. I reckon the several main ingredients for a good curry gravy are pretty much easy to guess, so here's my recipe to share. Based on feedback from my food critic by the name of
Dear Hub
, looks like this recipe is quite a winner although there's still room for slight ingredient adjustments here and there.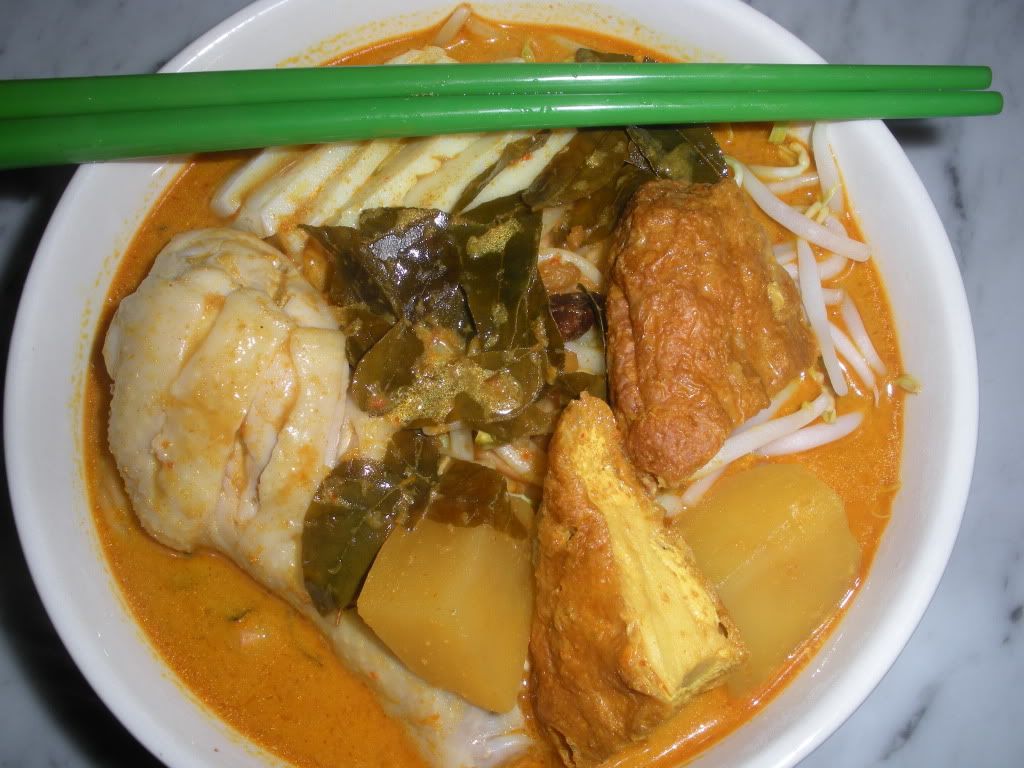 This recipe serves 2 persons.
What you'll need:
- Quarter of a chicken with its skin intact
- White fish cake
- Yellow noodles enough for two persons
- A handful of bean sprouts
(taugeh)
- Curry gravy, see my recipe below
Steam the chicken for 15-20 mins and then chop it. Don't waste by discarding the chicken stock, instead add it into the curry gravy later. Steam the fish cake for 3-5 mins and then slice it. Blanch the yellow noodles and bean sprouts in hot boiling water for 1-2 minutes. Discard the water.
Place noodles in bowls. Top with some bean sprouts, slices of fish cake and steamed chicken. Generously pour hot boiling curry gravy over it and serve hot with a small lime squeezed into it.
For cooking the curry gravy:
- 60g shallots
- 40g garlic
- 1/2 inch galangal
- 1 stalk lemongrass
- 2 fresh chillies
- 1 tbsp dried prawns (soaked in hot water for 5 mins)
- 3-4 tbsp curry powder
- 1 tbsp chilli powder
- 1 tsp turmeric powder
- 3 stalks curry leaves
- 1/2 tbsp sugar
- 1 tsp salt
- 1 potato, quartered
- 1/2 cup cooking oil
- 1/2 cup thick coconut milk
- 1.3 litre chicken bone stock
- 2 pieces fried beancurd skin with fish paste filling inside
(tau pok)
Blend the shallots, garlic, galangal, lemongrass, fresh chillies and dried prawns to form a paste. Mix in the curry powder, chilli powder, turmeric powder and curry leaves into the paste. Heat oil and saute the paste till it becomes drier and fragrant. Then, add in the stock and potatoes and let it simmer. When the potatoes are soft, add in the coconut milk and the fish paste fried beancurd skin or
tau pok
, sugar and salt. Let it simmer for a minute or two and turn off the heat. Ta da! Your boiling hot curry gravy is now ready to be poured into your bowls of noodles. Bon Appetit!